---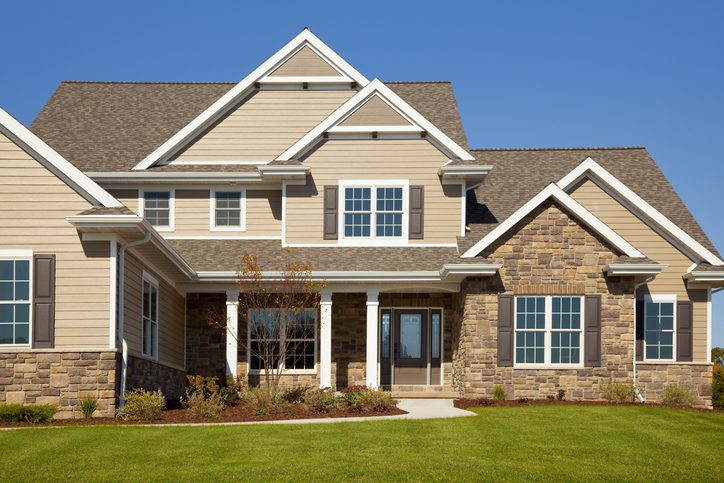 ---
What Are the Most Popular Exterior House Colors for 2022?
---
---
What is the Best Color for Exterior House Painting in 2022?
Whether you've just purchased the home or have lived in it for quite some time, there's a chance you may want to update its exterior. And while it's usually a quick fix with some new vinyl siding, sometimes, it's not a viable option since it comes with a hefty price tag. However, a simple, affordable solution to consider is painting your home. 
The Wichita exterior painters at River City Painting share a few popular color choices that more and more homeowners are gravitating towards in 2022.
Dark Forest Green
One of the newest color options on the market is dark forest green. This deep, rich hue is perfect for homeowners looking for visual warmth and complexity. While this shade wouldn't be optimal for a home that receives a ton of direct sunlight, it is the perfect share for houses with a shady landscape to further unfurl the decadence of their plants and trees.
Grey
Another trendy color that's becoming more of a household name is grey. Whether you have your heart set on a dark, ominous hue of this color or one that's light and airy, grey makes for a stunning color choice that will heighten the architectural details of any home with dark accents (e.g., shutters, light fixtures, etcetera).
Deep Brown
Have you ever thought about painting your humble abode a beautiful hue of deep brown? Aside from its rich, ominous tone, deep brown makes the perfect color choice for homes with light stonework and dark trim. Another perk about having your house coated in a deep brown shade is that it will add warmth — just like deep forest green.
Tan
Known for its timelessness, tan is the perfect shade for homeowners that want the best of both worlds. Not only will this color "pop" when paired with dark accents, but it also perfectly compliments light accents. Additionally, this fan-favorite color choice will make your home sparkle and shine for the years to come — it will never go out of style or look dated!
Our Team of Exterior Painters is Here to Help
Make your home the talk of the town by entrusting the exterior painting professionals at River City Painting! Our experts will work with you to pick the perfect color and determine a schedule that works best for you. To get started, give us a call at (316) 262-3289 or fill out a form online!
---